Evaluated Course of Handwriting Analysis
(Combination Traits)
Cara Menggabungkan Beberapa Trait Dasar Menjadi "EVALUATED TRAIT" Baru
Ketika kami mulai belajar grafologi, kami berfokus pada sifat-sifat dasar, misalnya:
i-dots = perhatian pada detail
sudut di huruf bawah n = analitical dan banyak lagi (dengan deskripsi mereka)
⇑⇑⇑
Ini dinamakan "Basic Trait"
EVALUATED TRAITS
adalah kombinasi dari beberapa trait sehingga membentuk trait baru
⇓⇓⇓⇓
Menyibak tanda-tanda kepribadian yang "tersembunyi"
Dr. Karohs menceritakan bahwa:
"Bertahun-tahun yang lalu, di salah satu kelas analisa tulisan tangan, seorang siswa dengan cermat memeriksa tanda tangannya, yang terlihat seperti ini:
Tiba-tiba ia menggelengkan kepalanya dan berseru:
"Aku tidak akan melakukannya lagi"
menanggapi pertanyaan kami, tampak ia menjelaskan bahwa ia tidak menyukai lingkaran (loop) di huruf 'd' yang menunjukkan tanda-tanda sifat kepribadian sensitifitas terhadap kritik.
Eddie menyatakan bahwa mulai saat ini dan ke depan ia akan mengubah penulisan huruf 'd' nya. Aku mencoba untuk memperingatkan dia bahwa mengubah satu huruf tertentu dapat memiliki konsekuensi yang mengerikan. Tapi ia bertekad dan mulai menghilangkan loop.
Siswa lain bertanya apakah ini berarti bahwa Eddie tiba-tiba tidak lagi takut kritik. Saya menyarankan agar kita memperhatikan tulisan tangannya dengan hati-hati mulai sekarang. Setelah sekitar dua minggu, penulisan huruf d masih baik, dibuat tanpa loop, melainkan dengan 're-track' yang baik. Namun, ternyata meski  huruf d nya membaik, namun muncul tanda-tanda baru lain dalam tulisan Eddie, menjadi seperti ini:
Huruf E dan h, berubah, dibuat dengan tarikan awal yang kaku yang dimulai dari bawah garis dasar.
Para siswa segera membuka kamus Grafologi dan menemukan satu hal yang mengejutkan, yaitu bahwa imajinasi yang kuat (loop pada huruf h), ditambah impulsiveness (kemiringan tulisan ke kanan), ditambah resentmen t(tarikan awal yang kaku yang dimuali dari bawah garis dasar) menunjukkan hasil yang sama dengan: SENSITIVENESS !!!.
Alam bawah sadar Eddie telah memainkan trik padanya. Bukan saja ia masih sensitif, dia sekarang ditambahkan sifat resetment (kebencian).

⇑ ⇑ ⇑
Tanpa pengetahuan yang mendalam tentang Combination Traits, Eddie akan memiliki asumsi yang salah bahwa ia telah menaklukkan kepekaannya, sementara pada kenyataannya, sensitivitas terhadap kritik yang berbahaya tersebut masih tetap berada dalam dirinya.
Kemudian dia memulai program latihan  grafoterapi secara keseluruhan dan setelah beberapa waktu, Eddie berhasil mengubah semua cara penulisannya menjadi positif. Disisi lain, para siswa, mendapatkan pelajaran berharga yang mudah diingat, yaitu bahwa karakteristik tersembunyi dalam tulisan tangan dapat dievaluasi melalui kombinasi dari sifat-sifat dasar.
Bagaimana Evaluated Course & apa yang akan Anda dapatkan dengan kursus ini:
Kami harap Anda merasa senang mempelajari ilmu analisa tulisan tangan yang menarik ini. Tidak hanya sebagai sarana untuk mengenal diri Anda sendiri tetapi juga untuk bergaul lebih baik dengan orang-orang di rumah, di tempat kerja dan dengan orang-orang sekitar.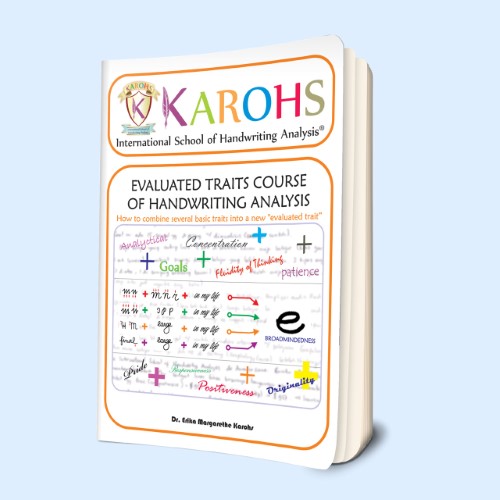 Book Manual: Evaluated Traits
Divided into 2-part:
Part I dari buku panduan ini mencantumkan semua sifat-sifat dasar (Basic Trait) yang digunakan sebagai komponen dari sifat-sifat yang dievaluasi yang tercantum dalam Bagian II
Part II daftar evaluated traits.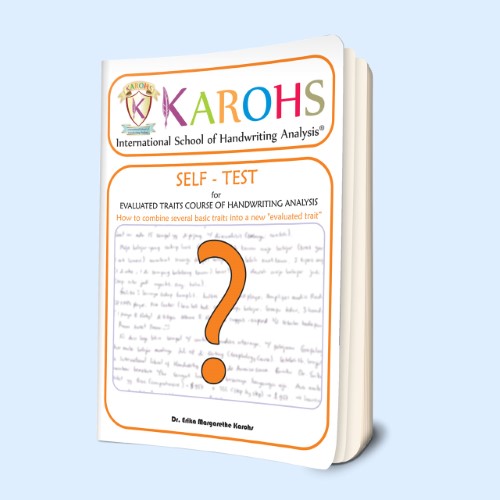 Book: Self-Test
Kursus ini dilengkapi dengan 18 self-test dan model answer untuk setiap tes.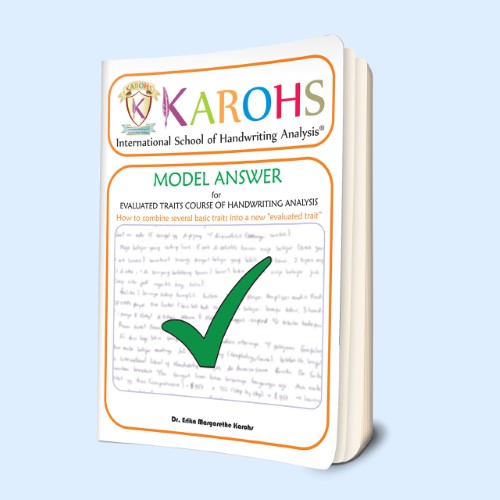 Book: Model Answer
Dengan menggunakan "Course Outline" sebagai panduan, pelajarilah sifat-sifat untuk setiap pelajaran. Kemudian selesaikan self-test dan bandingkan hasil Anda dengan model answer yang disertakan dalam kursus.
Lembar kerja yang dirancang secara profesional
Part I: TRAIT DASAR GRAFOLOGI
Lesson 1
Acquisitiveness,
covetous, aggressiveness,
analytical,
argumentativeness,
desire for attention,
benevolence and goodwill,
bluff, broad-mindedness,
caution, desire for change,
clannish, comprehension.
Lesson 2
Concentration,
condescension, makes
unfavorable comparisons,
confusion, creativity,
cultural interests,
cumulative thinking,
daydreaming, decisive,
deliberate, depth of feeling,
attention to details,
determination.
Lesson 3
Dignity, diplomacy,
directness, dominating,
domineering, enthusiasm,
envy, egotism, evasiveness,
exaggeration, faultfinding,
fear of criticism,
fluidity of thinking.
Lesson 4
Frankness, friendliness,
generosity, goals,
grudge bearer,
tendency toward harassment,
humor, imagination,
impatience, impulsiveness,
inattention to details,
indecisiveness, independence.
Lesson 5
Individualism,
initiative, insincerity,
intolerance, intuition,
investigative thinking,
irritability,
easily agitated,
jealousy,
literary leanings,
loyalty, faithful,
magnanimity and generosity,
manual dexterity.
Lesson 6
Mental orientation,
narrow-mindedness,
objectiveness,
composure and equanimity,
optimism,
cheerful (being able to feel and spread happiness),
organizational ability,
originality, ostentation,
patience, persistence,
pessimism, sorrow,
tendency to lament.
Lesson 7
Physical orientation,
politeness, positiveness,
possessiveness, precision,
pride, procrastination,
repression, resentment,
reserved, resignation,
resistance,
desire for responsibility,
responsiveness.
Lesson 8
Mental restlessness,
physical restlessness,
reticence, routinist,
sarcasm, secretiveness,
selectiveness,
self-admiration,
self-castigation,
self-confidence,
self-consciousness,
self-control, self-deceit,
self-interest.
Lesson 9
Self-reliance,
self-underestimation,
self-effacing,
sensitive to criticism,
sensual, sensuous,
serious, shallow,
showmanship,
simplification,
skepticism, stern,
stubborn, superficial thinking.
Lesson 10
Suppression,
sympathy, tact,
talkativeness,
temper, tenacity,
unjustified accusations,
unjustified demands,
vanity, desire for variety,
vindictive, willpower,
withdrawal, yielding.
Lesson 11
ACQUISITIVE,

ANALYTICAL,

ARGUMENTATIVE,

BLUFF,

BROADMINDED.
Lesson 12
CAUTION,

DESIRE FOR CHANGE,

CONFUSION,

CREATIVITY,

CRITICALNESS.
Lesson 13
DEFIANCE,
DETERMINATION,
DIGNITY,
ENVY,
EVASIVENESS.
Lesson 14
EXTRAVAGANCE,
GRUDGE BEARER,
HUMOR,
IMPATIENCE,
INHIBITED.
Lesson 15
INITIATIVE,
JEALOUSY,
NARROW-MINDEDNESS,
OSTENTATION,
PATIENCE.
Lesson 16
PERSISTENCE,
PESSIMISM,
PRECISION,
PRIDE,
RESENTMENT
Lesson 17
ROUTINIST,
SARCASM,
SELF-CONFIDENCE,
SENSITIVE TO CRITICISM
Lesson 18
SKEPTICISM,
SYMPATHY,
TEMPER,
DESIRE FOR VARIETY,
WITHDRAWAL
Trait Dasar untuk Broadmindedness:

⇓ ⇓ ⇓
EVALUATED Traits untuk Broadmindedness:




EVALUATED TRAITS untuk Desire for Changes: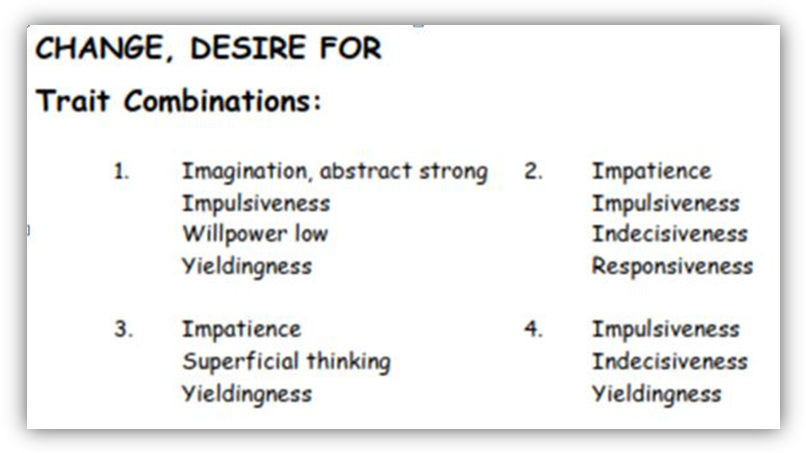 Setelah menyelesaikan kursus, siswa akan mendapatkan sertifikat kelulusan (Ijazah) "Certified Handwriting Analysts, Level Two". Tes ijazah ini sudah termasuk dalam paket studi siswa. Tidak ada biaya tambahan untuk ijazah ini.
Important! ISHA is not an accredited school and since there currently exists no official licensing agency for graphology in the USA, diplomas are not officially accredited. The diplomas issued by ISHA certify that graduates have successfully completed one of ISHA's study courses and have complied with all the requirements for the completion of course.
Because Dr. Erika M. Karohs is recognized as a one of the world's foremost graphologists and her courses are unquestionably unmatched by other courses currently available, diplomas issued by ISHA and graduates trained by Dr. Karohs are highly esteemed both in the graphological and corporate world.
Dear Dr. Erika Karohs, I do not know how I can thank you for your amazing home study course "Evaluated Traits Course of Handwriting Analysis". I do not find adequate words to describe your publications which are well organized and are designed in professional way. They really are valuable and rich in information and illustrations.